About Siemens
Siemens is a global powerhouse focusing on the areas of electrification, automation and digitalization. One of the world's largest producers of energy-efficient, resource-saving technologies, Siemens is a leading supplier of systems for power generation and transmission as well as medical diagnosis. In infrastructure and industry solutions the company plays a pioneering role.
The recruitment marketing challenge
More than 360,000 people work for Siemens in about 200 countries. In 2017 they recruited close to 40,000 people into roles as diverse as Chief Engineer, Cloud Solution Architect and HR Operation Advisor.
With only an estimated 30 per cent of the workforce actively seeking new opportunities, Siemens' challenge is to connect and engage with a huge variety of talent and give them a reason to consider Siemens as an employer of choice. It's challenging enough to connect and engage with candidates when a business recruits a few hundred roles a year in one location – but with 40,000 globally dispersed roles the challenge Siemens faces is sparking these human connections, at scale.
"Like most organisation we really need to attract passive candidates better than we currently do. We recruit for a lot of niche roles … they're not looking for a job, they already have a job, so how do we reach them? This technology allows us to reach passive candidates really well."
Teresa Collis
Head of Global Recruitment Marketing
Siemens had four challenges that they were looking to address with the introduction of in-house video production in their recruitment marketing and talent acquisition teams:
Reaching passive candidates
Increasing the marketing skill set of recruiters
Living Siemens brand value of 'innovation'
Improving time-to-hire and quality-of-hire metrics
The recruitment marketing video initiative
Siemens piloted VideoMyJob with 15 recruiters from seven different countries (US, Germany, India, UAE, France, Italy and UK). VideoMyJob ran a series of virtual training sessions to accommodate the various time zones and Siemens quickly built up the number of recruiters who had a license.
"Taking time to learn how to be on camera, how to write a script, what are the important messages that we want to relay to our candidates - these are new skills our recruiters needed time to practice."
Charis Kurtz
Talent Relationship Manager
Siemens experienced an initial surge of really great videos and then momentum started to flag. It became clear that the pilot needed a dedicated resource to drive and manage it, so the challenge was handed to Charis Kurz, at that stage a Recruitment Marketing Specialists based in Munich.
Charis has built a shared library of resources, such as video brand and employer brand for video guides, created a Siemens video community forum to share ideas and flown to various Siemens outposts to introduce and facilitate training with recruiters and hiring managers.
Most significantly both Teresa and Charis have led by example, replacing traditional text or email with video messaging for internal recruitment and communications.
The video recruitment results
Siemens have seen an increase in engagement and click through for their video job ads. There's no industry benchmark click through rate (CTR) for video job ads - yet - the Siemens CTR of 2.78% performs well when compared to the average click through rate for rich media display advertising of 0.30%. The average view time of YouTube advertising videos under two minutes is 30% and Siemens video job ads are averaging 50%.
With the introduction of video job ads, the Siemens Denmark office has significantly increased both views and click-throughs on Jobindex (#1 job board in Denmark), increased applicants for hard-to-fill roles by 180% as well as an 180% and reduced time-to-fill by 14 days (see graph).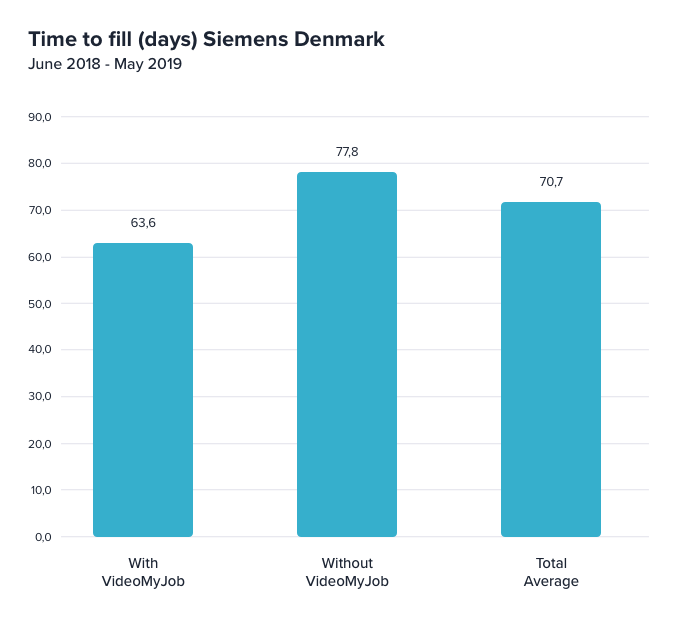 "We are very happy with VideoMyJob and have been seeing some excellent results when using it! It has helped us professionalise our TA function. The managers love it!"
Rikke Felletoft Hansen
Sr. Talent Acquisition Partner
Direct feedback from recruiters globally has revealed many success stories worth celebrating.
A video job ad targeting Engineers with experience in industrial automation was online for 43 days, directly resulting in three hires.
In a market where average time-to-hire is about 45 days, a video job ad targeting Digital Engineers helped the recruiter fill the role in 23 days.
A video job ad for an Electrical Site Manager in the UAE, a region that can be challenging to recruit for, garnered almost 40,000 views on LinkedIn. Within a couple of weeks the recruiter was interviewing two excellent candidates.
Another Middle East success story – 13 days after posting a video job ad for a Civil Project Manager in Egypt, an excellent referral was made, and another two weeks later an offer was made to the candidate.
Siemens are reaching the right candidates, the professionalism of the talent acquisition function has been enhanced, the hiring managers and candidates love the innovation, and time-to-hire has improved.
In 2019 Siemens are working with VideoMyJob engineers to build reports that help them to track and understand the impact of video on their recruitment marketing outcomes more efficiently.